Kansas Law Enforcement Training Center Graduates 317th Basic Training Class
---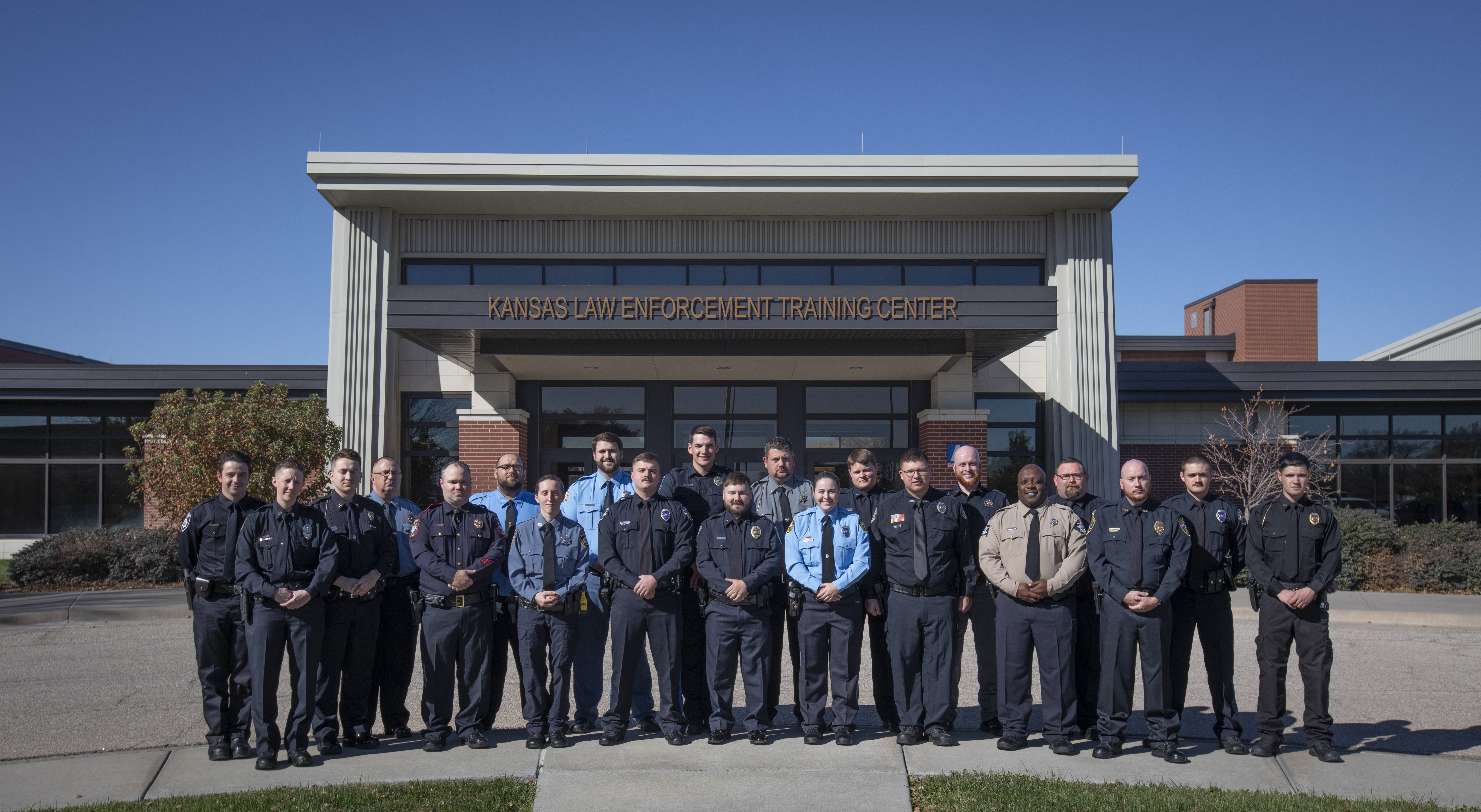 Photos by Jeff Tuttle
Twenty-one new law enforcement officers graduated from the Kansas Law Enforcement Training Center (KLETC) on November 10, 2023, in a ceremony held in KLETC's Integrity Auditorium. KLETC Police Instructor Senior Michael Turenne was the class coordinator for the graduating class, and the commencement speaker for the ceremony was Louisburg Police Chief Josh Weber.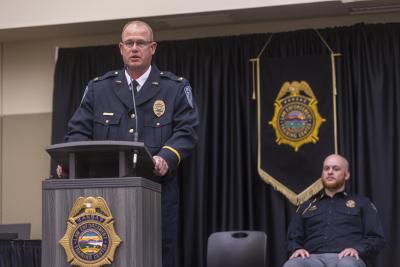 Chief Weber asked the graduating class to remember what they were feeling in that moment as they prepared to graduate.  "Pride in your accomplishments, how proud you are to put on the uniform today, how eager you are to serve the people in your community, how excited you are to make a difference in your department."  He then suggested that memory be filed away so it may be accessible at a moment's notice.  Chief Weber also reminded the graduates of the enormous amount of power, influence, and responsibility they are given with their new law enforcement role.  "You must have a true North, your personal unwavering guiding principles, unwavering characteristics – honesty, integrity, equality, discipline, and the list goes on and on.  You must ensure these principles align with what is expected by your department and the citizens you serve."
Under the authority of Executive Director Darin Beck, graduates received certificates attesting to the satisfactory completion of a full-time basic course of instruction, and certification as Kansas law enforcement officers from the Kansas Commission on Peace Officers' Standards and Training, the state's law enforcement licensing authority.
The following are the graduates of the 317th basic training class:
*Award recipient
Andrew Bond - Pittsburg Police Department
Jacob Bonham - Louisburg Police Department
Victor Burr - Burlington Police Department
Sean Bussanmas - Louisburg Police Department
*Fitness
Daniel Donaldson - Lansing Police Department
Victoria Elliott - University of Kansas Police Department
Matthew Elpers - Leawood Police Department
Trace Evans - Colby Police Department
Garett  Hinz - Butler County Sheriff's Office
Major Hylton - Saline County Sheriff's Office
Kelly Mohler - Linn County Sheriff's Office
Devin Odom - Pottawatomie County Sheriff's Office
Levi Reichard - Fort Scott Police Department
Leonard Rogers - Jewell County Sheriff's Office
Mason Staats - Derby Police Department
Dakota TeBeest - Lansing Police Department
Shane Thompson - Chanute Police Department
Tate Tilley-Bedick - Wichita State University Police Department
Caleb Tomlinson - McPherson Police Department
*Fitness
Tyler Williams - Rooks County Sheriff's Office
*Class President
Landon Wise - Derby Police Department