Kansas Law Enforcement Training Center Graduates 314th Basic Training Class
---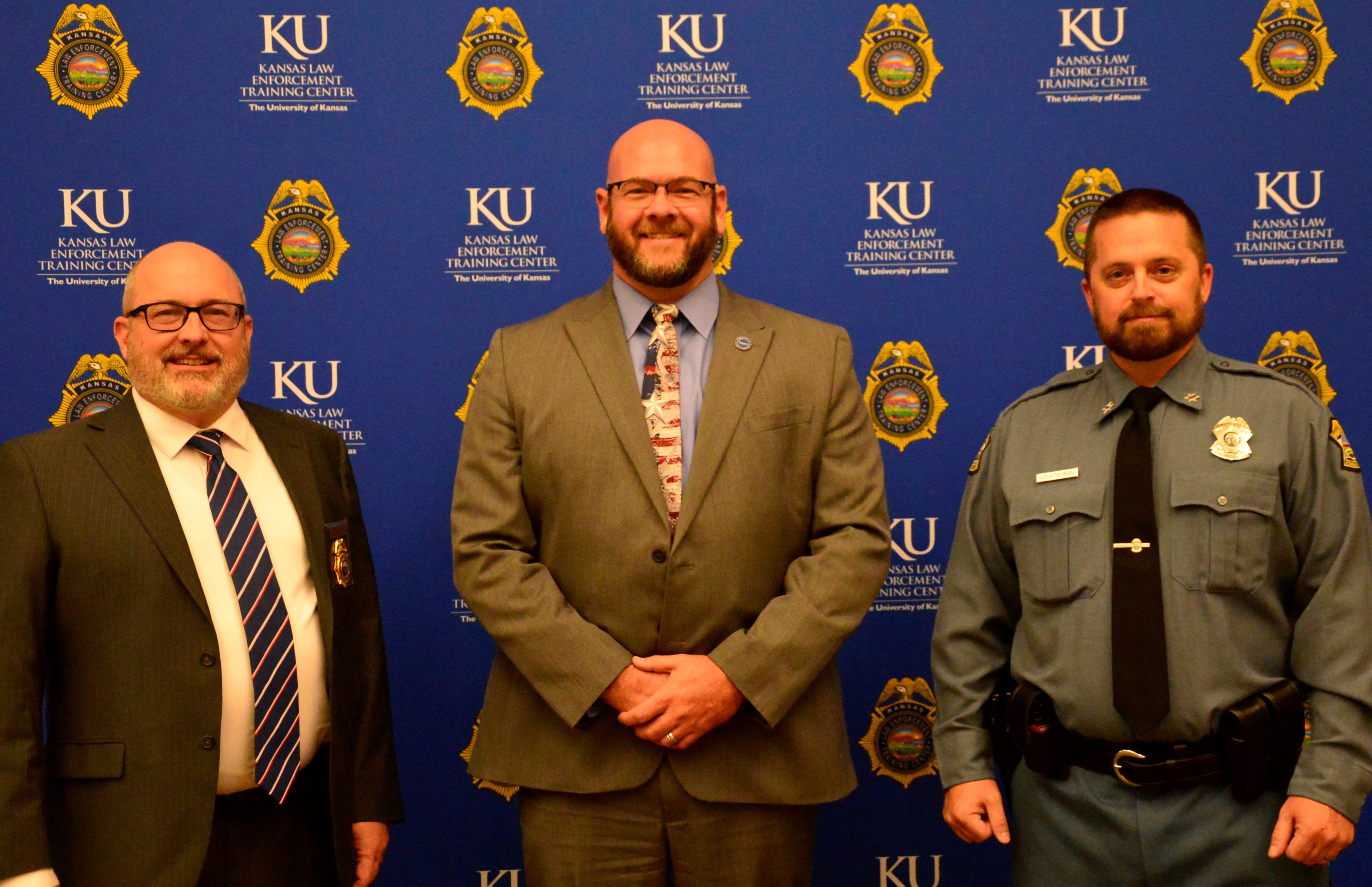 KLETC Executive Director Darin Beck, Rep.Stephen Owens, 314th Class President Chad Countryman.
Nineteen new law enforcement officers graduated from the Kansas Law Enforcement Training Center (KLETC) on September 8, 2023 in a ceremony held in KLETC's Integrity Auditorium. KLETC Police Instructor Senior James Buettgenbach was the class coordinator for the graduating class, and the commencement speaker for the ceremony was Kansas State Representative Stephen Owens.
In his commencement address, Representative Owens urged the graduates to be the example. "First, remember that you are an example. Each one of you are an example to my children, to your children, to your brothers and your sisters. You are the example that they will look up to in law enforcement, be the example that you want for them. And remember, doing what is right is never wrong." Speaking on behalf of the vast majority of legislators, Representative Owens expressed their unwavering support for Kansas law enforcement. "We want you to know that we appreciate you. We pledge to support you as you pledge to support and to protect us and uphold the Constitution of the United States and the great state of Kansas."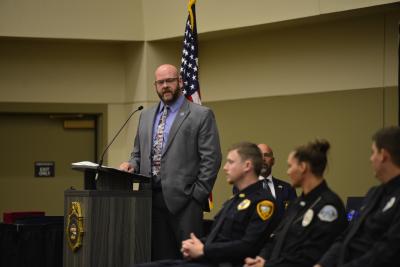 Under the authority of Executive Director Darin Beck, graduates received certificates attesting to the satisfactory completion of a full-time basic course of instruction, and certification as Kansas law enforcement officers from the Kansas Commission on Peace Officers' Standards and Training, the state's law enforcement licensing authority.
The following are the graduates of the 314th basic training class:
*Award recipient
Chase  Barrett - Concordia Police Department
Samantha Boyd - Grandview Plaza Police Department
*Honors, Fitness
Chad Countryman - Johnson County Sheriff's Office
*Class President
Caleb Cowden - Derby Police Department
Joshua Curry - Fredonia Police Department
Christian Davidson - Douglas County Sheriff's Office
*Fitness
Alexya Davis - Douglas County Sheriff's Office
Tyrell Davis - Hays Police Department
Justin Floberg - Geary County Sheriff's Office
Cody Hutchison - Arkansas City Police Department
Shelley Inge - Johnson County Sheriff's Office
Andrew Johnson - Cloud County Sheriff's Office
*Honors
Patricia Krummel - Johnson County Sheriff's Office
Nathaniel Powers - Concordia Police Department
Jeremy Rock - McPherson Police Department
Randell Smith - Kiowa County Sheriff's Office
Kyle Still - Phillips County Sheriff's Office
Nicholas Vanderspoel - Johnson County Sheriff's Office
Tyler Wenger - Harvey County Sheriff's Office