Kansas Law Enforcement Training Center Graduates 310th Basic Training Class
---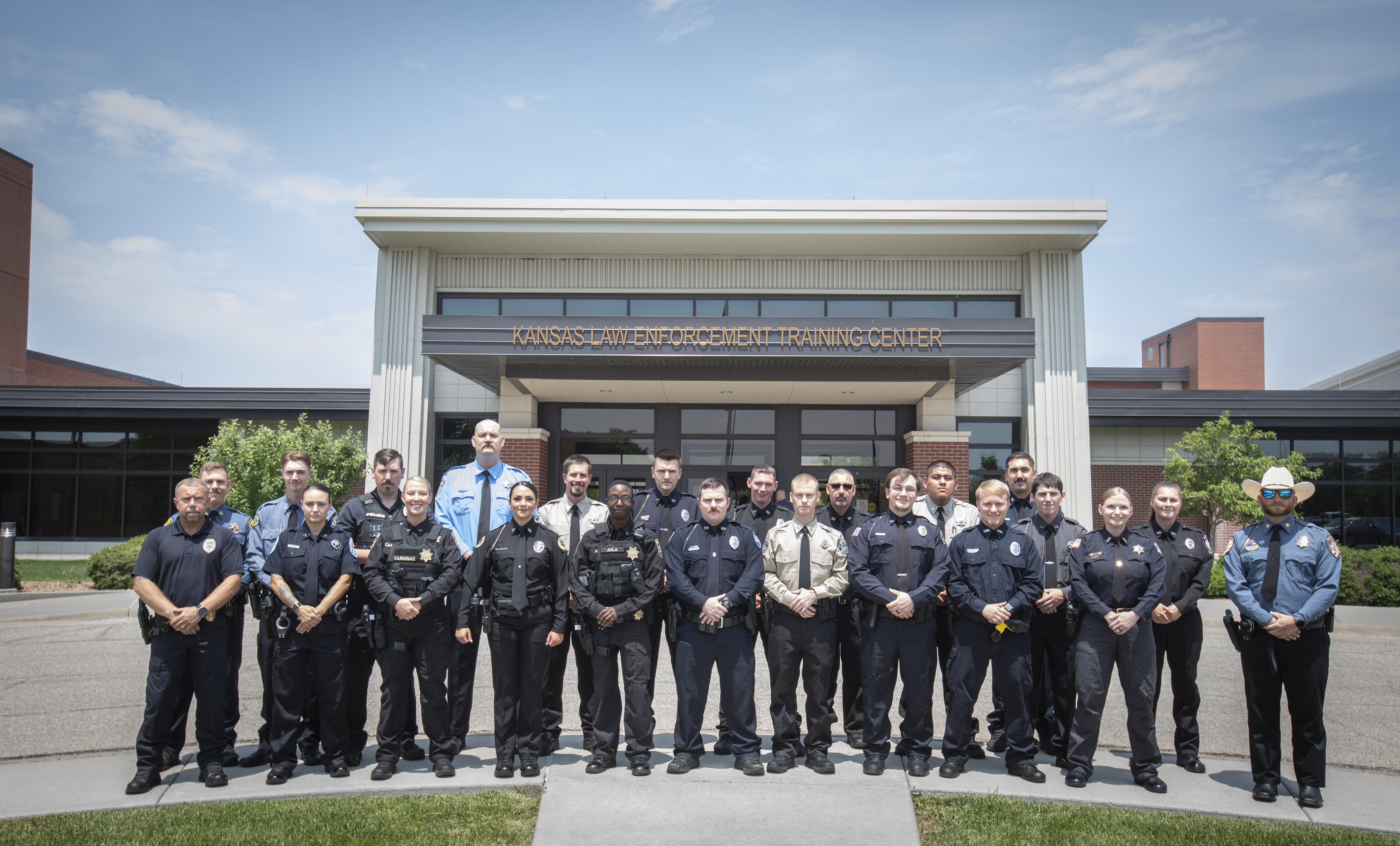 Photos by Jeff Tuttle
Twenty new law enforcement officers graduated from the Kansas Law Enforcement Training Center (KLETC) on June 9, 2023 in a ceremony held in KLETC's Integrity Auditorium. KLETC Police Instructor Senior Steve McCorkill was the class coordinator for the graduating class, and the commencement speaker for the ceremony was Cowley County Sheriff David Falletti.
Class president, Deputy Michaela Mosqueda with the Cowley County Sheriff's Office, discussed the most important lesson she learned while attending basic training, finding your "why."  "Your 'why' is bigger than being motivated," said Mosqueda.  "Motivation is there for you when things are good, but it leaves you high and dry when things get tough.  If you're just motivated for this career, you're wrong.  Drive, however, is forever.  Your drive is your 'why.'"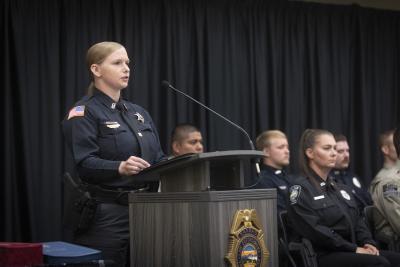 Under the authority of Executive Director Darin Beck, graduates received certificates attesting to the satisfactory completion of a full-time basic course of instruction, and certification as Kansas law enforcement officers from the Kansas Commission on Peace Officers' Standards and Training, the state's law enforcement licensing authority.
The following are the graduates of the 310th basic training class:
*Award recipient
Marvin Avila - Geary County Sheriff's Office
Mitchell Baker - Kansas City Public Schools Police Department
Mark Baugh - Holton Police Department
Timothy Bonham - Louisburg Police Department
Kristin Brown - Junction City Police Department
Ashley Cardenas - Geary County Sheriff's Office
Devin Crawford - Osborne Police Department
Rachael Grimm - Prairie Band Pottawatomi Tribal Police 
*Fitness
Michael Haase - Gove County Sheriff's Office
Brent Hoover - Colby Police Department
Bailey Kennedy - Washington County Sheriff's Office
David King - McPherson County Sheriff's Office
Garrett Krumm - Miami County Sheriff's Office
Jose Martinez-Chavez - Jackson County Sheriff's Office
Michaela Mosqueda - Cowley County Sheriff's Office 
*Class President
Gage Myers - Larned Police Department
Dexter Nelson - Emporia Police Department
Robert Taylor - Valley Falls Police Department
Brett Thompson - Barton County Sheriff's Office
Christian Walls - Newton Police Department