Kansas Law Enforcement Training Center Graduates 308th Basic Training Class
---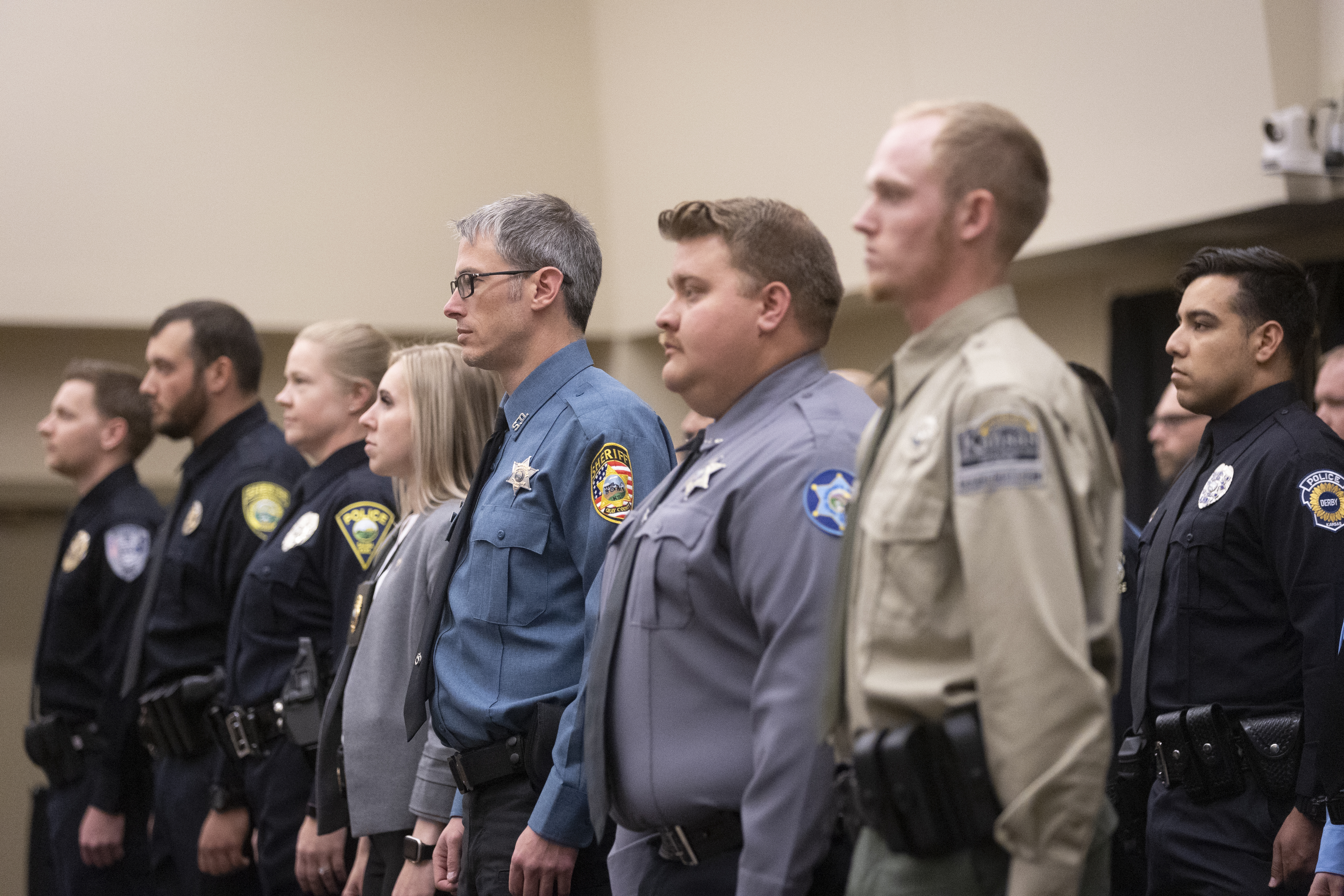 Photos by: Jeff Tuttle
Twenty-two new law enforcement officers graduated from the Kansas Law Enforcement Training Center (KLETC) on April 28, 2023 in a ceremony held in KLETC's Integrity Auditorium. KLETC Police Instructor Senior James Buettgenbach was the class coordinator for the graduating class, and the commencement speaker for the ceremony was Butler County Sheriff Monty Hughey.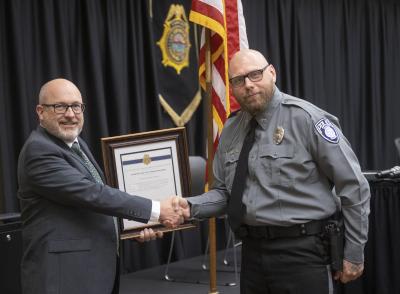 Executive Director Darin Beck presented one of the graduates with a Certificate of Commendation for heroic actions in the performance of his duties on March 30, 2023.  While in class, Officer Jerry Perry with the Oxford Police Department administered the Heimlich maneuver to a fellow classmate who was choking and almost lost consciousness.  "Officer Perry's quick and decisive action directly contributed to the saving of a life," said Beck.  "His actions bring credit to his department, KLETC, and the profession."
Under the authority of Executive Director Beck, graduates received certificates attesting to the satisfactory completion of a full-time basic course of instruction, and certification as Kansas law enforcement officers from the Kansas Commission on Peace Officers' Standards and Training, the state's law enforcement licensing authority.
The following are the graduates of the 308th basic training class:
*Award recipient
Andrew Barnhill - Washburn University Police
Colton Carpenter - Chase County Sheriff's Office
Crystal Coletti - Salina Police Department
*Director's award for academic excellence
*Fitness
Aaron Deimund - Gray County Sheriff's Office
Cade Hawver - Reno County Sheriff's Office
Brenden Hudson - Kansas Department of Wildlife and Parks
Jordan Keil - Great Bend Police Department
John Leonard - Salina Police Department
Thurman Lewis - Lansing Police Department
Adam Mata - University of Kansas Med Center Police Dept
Angel Medina - Derby Police Department
*Fitness
Alexis Menadue - Butler County Sheriff's Office
John Moutz - Arma Police Department
*Director's award for academic excellence
Steven Parker - Butler County Sheriff's Office
*Class President
Jerry Perry - Oxford Police Department
*Certificate of Commendation
Joshua Riggle - Saline County Sheriff's Office
Lonna Savage - Salina Police Department
*Fitness
Charles Stokes - Pleasanton Police Department
Alicia Thompson - University of Kansas Med Center Police Dept
Courtney Thornton - Salina Police Department
Logan Wooters - Great Bend Police Department
Lyn Wright, Jr. - Gray County Sheriff's Office