Kansas Law Enforcement Training Center Graduates 306th Basic Training Class
---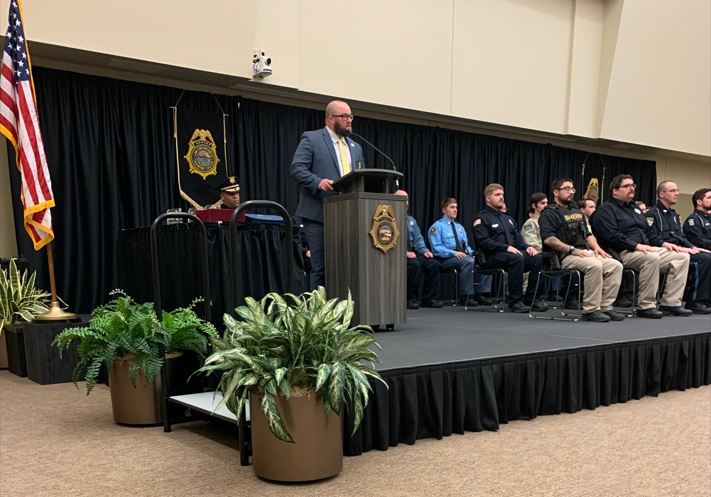 Twenty-five new law enforcement officers graduated from the Kansas Law Enforcement Training Center (KLETC) on March 17, 2023 in a ceremony held in KLETC's Integrity Auditorium.
Class Coordinator Bryan Carey expressed his appreciation for the graduates and reminded them of the value of knowledge and learning.  "Everyone on this stage was concerned with getting better.  This profession is constantly changing and evolving.  Become a lifelong learner."
Riley County Police Department Director Brian R. Peete was the commencement speaker for the ceremony.  Director Peete shared with the graduates his advice on successfully navigating the profession, to include being at your best as often as you can, to be true to yourself always, and to be patient.   "You will grow as human beings; you will bring out the best in others.  You will help people, you will save lives. You will make a difference, and you are now part of something bigger than yourselves."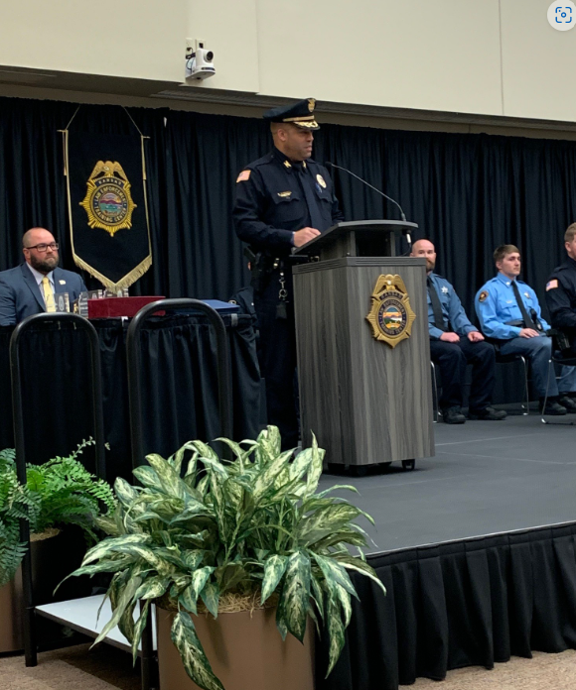 Under the authority of Executive Director Darin Beck, graduates received certificates attesting to the satisfactory completion of a full-time basic course of instruction, and certification as Kansas law enforcement officers from the Kansas Commission on Peace Officers' Standards and Training, the state's law enforcement licensing authority.
The following are the graduates of the 306th basic training class:
*Award recipient
Lucas Batterton - Stanton County Sheriff's Office
Randon Blanck - Phillips County Sheriff's Office
Andrew Buzako - Stafford Police Department
Brendan Cipolla - University of Kansas Med Center Police Dept
Destiny Cole - Wamego Police Department
Hunter Elliott - Sumner County Sheriff's Office
Mia Gibson - Mulvane Police Department
Gunner Gum - Kansas Department of Wildlife and Parks
Eric Hamm - Riley County Police Department
Hunter Hampton - Kansas Department of Wildlife and Parks
Julian Henretty - Kansas Department of Wildlife and Parks
Jasmin Jackson - Junction City Police Department
Robert Johnson - Goodland Police Department
Glen King - Wamego Police Department
*Class President
Jack Kingsley - Kansas Department of Wildlife and Parks
Cole Knott - Stanton County Sheriff's Office
Edward Liller - University of Kansas Med Center Police Dept
Kyle Newville - Cloud County Sheriff's Office
Nathan Niemann - Sumner County Sheriff's Office
John Pietrzak - Horton Police Department
Richard Romig - Johnson County Sheriff's Office
James Schmeidler - Liberal Police Department
Derek Siebenmorgen - Leavenworth County Sheriff's Office
Joshua Standridge - Kansas Department of Wildlife and Parks
Nicholas Zafuta - Frontenac Police Department
* Director's award for academic excellence