Kansas Law Enforcement Training Center Graduates 305th Basic Training Class
---
Photos by: Jeff Tuttle
Twenty-two new law enforcement officers graduated from the Kansas Law Enforcement Training Center (KLETC) on February 24, 2023, in a ceremony held in KLETC's Integrity Auditorium.
Wyandotte County Sheriff Daniel Soptic was the commencement speaker for the ceremony.  Sheriff Soptic utilized the time to share with the graduates some of the things he has learned throughout his career, to include why it matters how you treat others, the importance of family and friends, and the importance of embracing life outside of law enforcement.  "The life you are about to live is not an easy one, but it is the most noble career one can choose."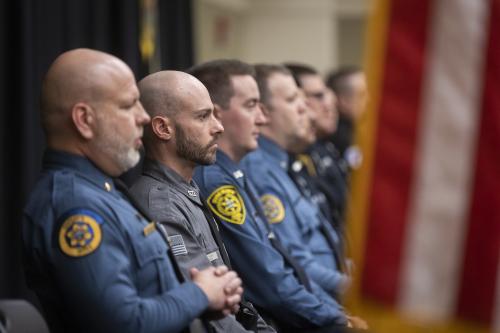 Under the authority of Executive Director Darin Beck, graduates received certificates attesting to the satisfactory completion of a full-time basic course of instruction, and certification as Kansas law enforcement officers from the Kansas Commission on Peace Officers' Standards and Training, the state's law enforcement licensing authority.
The following are the graduates of the 305th basic training class:
*Award recipient
Dustin Burdett - Caney Police Department
George Costello - Lawrence Police Department
Nicholas Coultas - Barber County Sheriff's Office
Jarod Flax - Russell County Sheriff's Office
Isaac Forster - Butler Community College Dept of Public Safety
Brayden Garner - Fort Scott Police Department
Deven Harriet - Salina Police Department
*Michael Holstien - Hamilton County Sheriff's Office
Class President
Lorenzo Kelly - Wyandotte County Sheriff's Office
Clayton Mackey - Sumner County Sheriff's Office
Korie Martin Brown - Grandview Plaza Police Department
Theresa Mathies - Morton County Sheriff's Office
Sean McCullough - Parsons Police Department
Edward Mora - Kansas Department of Corrections
Brody Mundell - Miami County Sheriff's Office
Christopher Parrish - Wyandotte County Sheriff's Office
Stephen Reagin - Hutchinson Police Department
Jaime Romero - Haysville Police Department
Thomas Roudebush-Torske - Mulvane Police Department
*McKenna Vande Hey - Kansas Bureau of Investigation 
Honors
Kevin Wagner - Marshall County Sheriff's Office
Noah Zimmerman - Butler Community College Dept of Public Safety