Kansas Law Enforcement Training Center Graduates 302nd Basic Training Class
---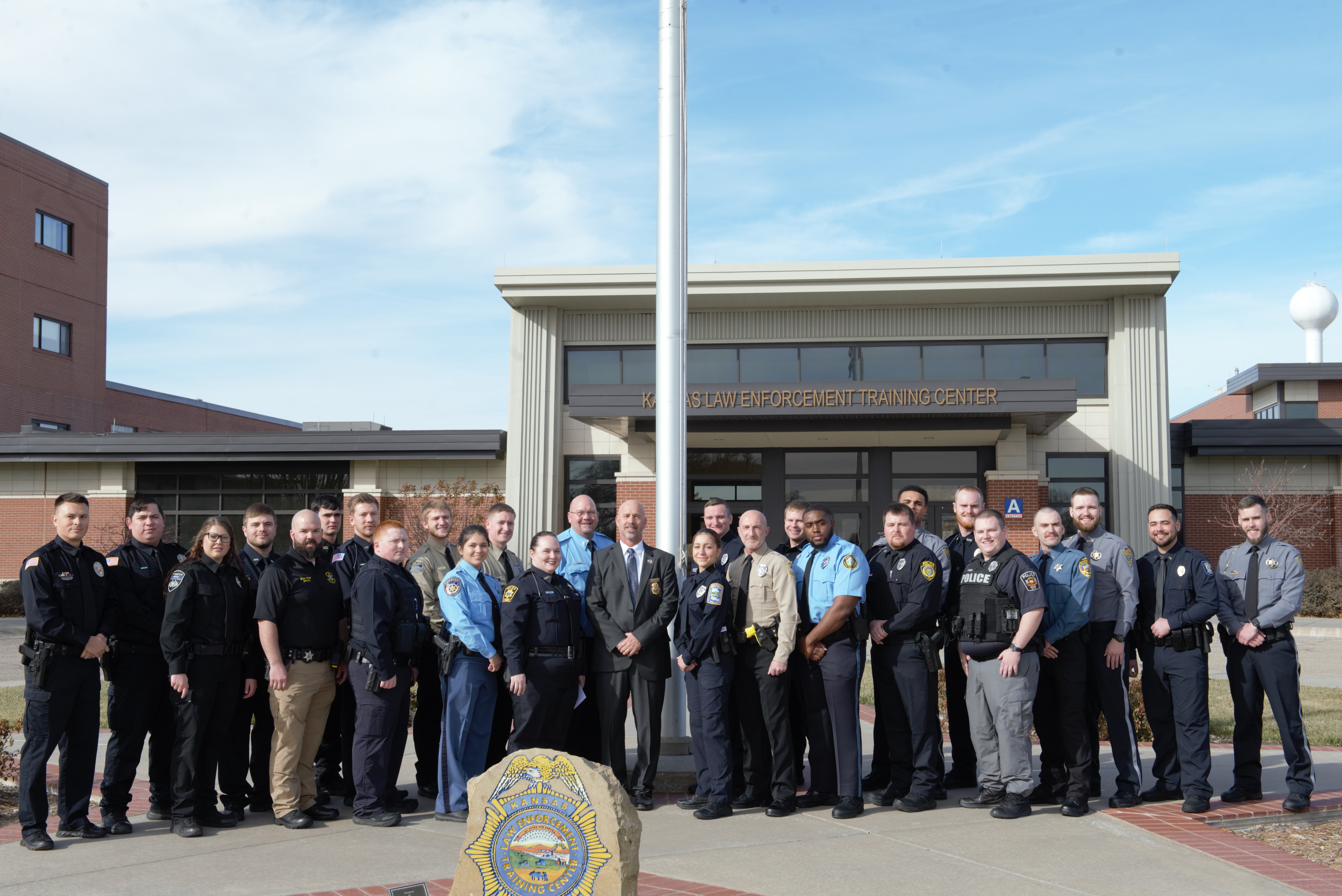 302nd Basic Training Class with Class Coordinator James Buettgenbach (center)
Twenty-five law enforcement officers graduated from the Kansas Law Enforcement Training Center (KLETC) on December 9, 2022, in a ceremony held in KLETC's Integrity Auditorium.
In addressing the students, commencement speaker Emporia Police Department Chief Ed Owens said they've been called upon to be stewards of their community.  "Each and every day, uniform or not, serve your communities with pride and dedication."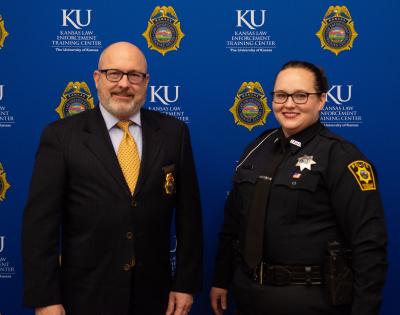 Class President Caitlin Waits with the Haysville Police Department reflected upon the academy experience and how it was unique to each individual, with one constant theme.  "Before I came to KLETC, I was told the academy is what you make of it.  I believe that word of advice from my co-workers rings true for everyone on this stage."  Waits went on to say that throughout the 14 weeks in basic training the class learned together, struggled together, and grew together. 
Under the authority of Executive Director Darin Beck, graduates received certificates attesting to the satisfactory completion of a full-time basic course of instruction, and certification as Kansas law enforcement officers from the Kansas Commission on Peace Officers' Standards and Training, the state's law enforcement licensing authority.
The following are the graduates of the 302nd basic training class:
       *Award recipient
Yvette Alford - Greenwood County Sheriff's Office
Cadyn Allen - Herington Police Department
Dominick Andersen - Kansas State University Police Department
*Jonathon Augustyniewicz - Riley County Police Department 
Director's award for academic excellence
*Kurtis Cavender - Kansas State University Police Department
Honors
Devonte Chapman - Wichita State University Police Department
Ian Crandall - Iowa Tribal Police Department
Alex Duckett - Cherokee County Sheriff's Office
Lane Elmore - Great Bend Police Department
Hayden House - Overland Park Police Department
Gage Hudson - Cherokee County Sheriff's Office
*Brendan Igolkin - Gray County Sheriff's Office
Fitness
Craig Jordan - Cherokee County Sheriff's Office
Travis Kahn - Girard Police Department
Bryan Martes Munoz - Lawrence Police Department
Jonathan Parsons - Great Bend Police Department
*Alayna Patterson - Riley County Police Department
Honors, fitness
Dray Podlena - Kansas Department of Wildlife and Parks
Mason Roberts - Pleasanton Police Department
Cole Rostetter - Newton Police Department
Aaron Sabine - Crawford County Sheriff's Office
Luke Schibi - Parsons Police Department
Hawkens Taylor - Emporia Police Department
*Caitlin Waits - Haysville Police Department
Class President
Brian Ward - Clark County Sheriff's Office