Kansas Law Enforcement Training Center Graduates 292nd Basic Training Class
---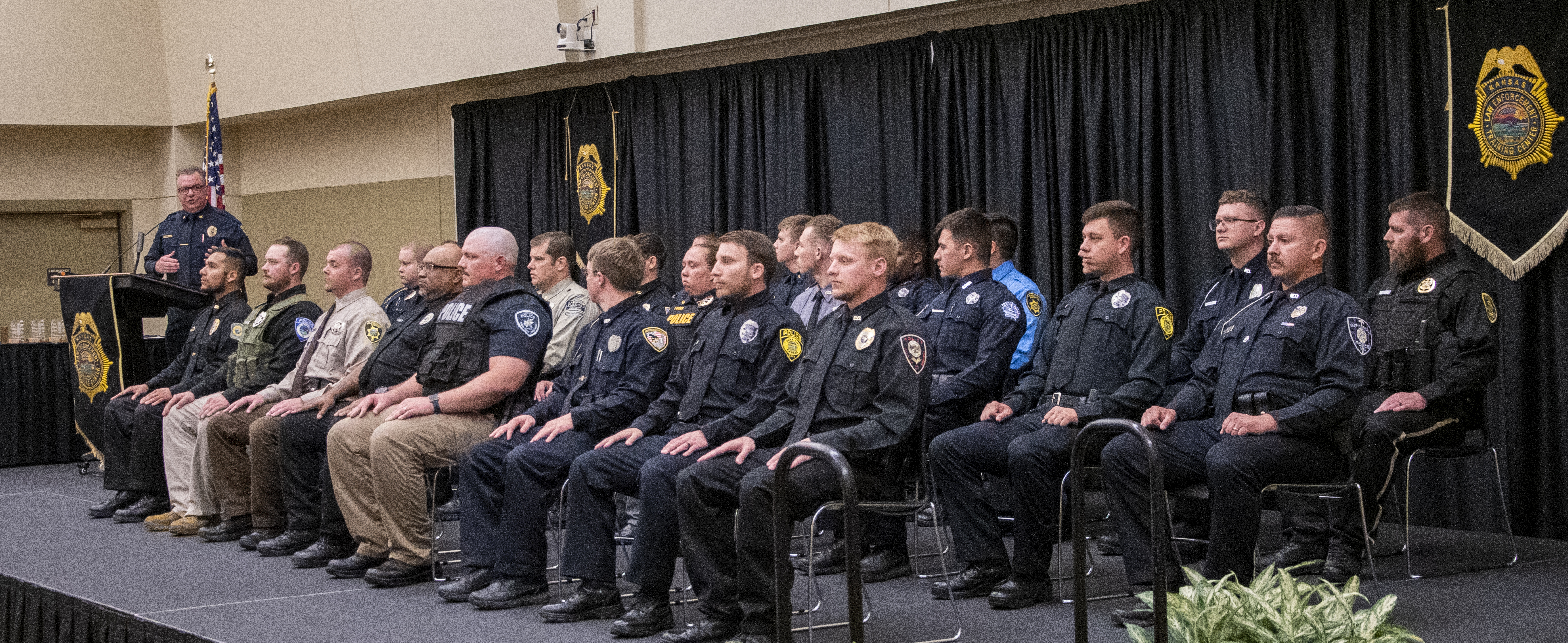 Chief Rick Lockhart of the Lawrence Police Department addresses the 292nd basic training class
Twenty-seven new law enforcement officers graduated from the Kansas Law Enforcement Training Center (KLETC) on April 29th at a ceremony held in the KLETC Integrity Auditorium. 
Officer Robert Garland of the Andover Police Department was the graduating class president. The speaker for the ceremony was Chief Rick Lockhart of the Lawrence Police Department. Steve McCorkill, KLETC Senior Instructor of Police, was the Class Coordinator for the 292nd Basic Training Class.
Officer Garland Officer received the Fitness Medal for having the best overall improvement in the push-ups, sit-ups, and the 1.5 mile run as well as having logged the most miles run. Officers Mason Dyck of the Moundridge Police Department and James Smathers of the Lawrence Police Department were added to the Director's Honor Roll. Officer Smathers was also awarded the Welch Academic Award for academic excellence. Officer Dyck was recognized during the ceremony for his firearms proficiency as the class' "Top Shot".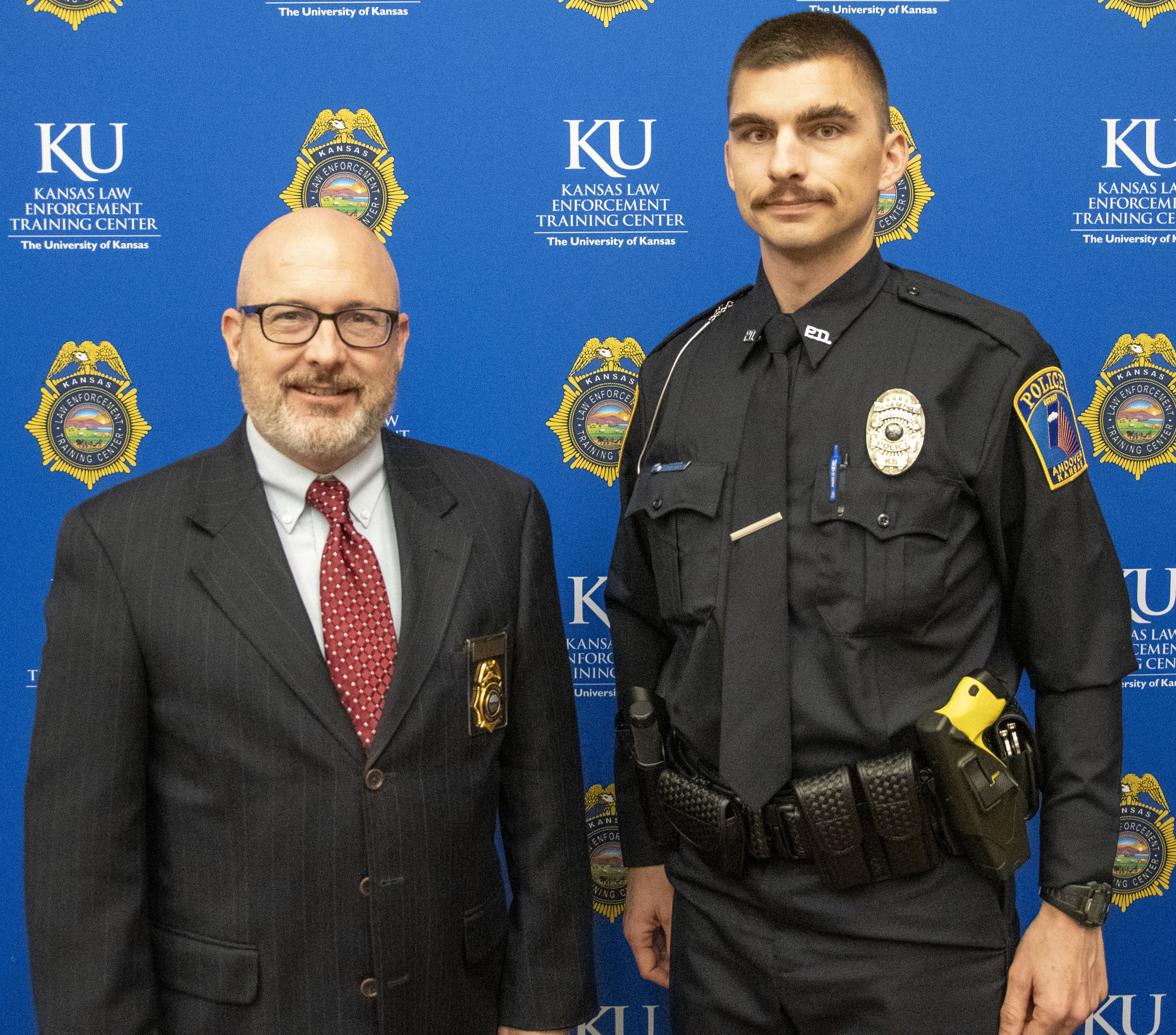 Graduates receive certificates of course completion from KLETC and Kansas law enforcement certification from the Kansas Commission on Peace Officers' Standards and Training, the state's law enforcement licensing authority. The training course fulfills the state requirement for law enforcement training. Classroom lectures and hands-on applications help train officers to solve the increasingly complex problems they face in the line of duty.
Established by the Kansas Legislature in 1968, KLETC trains the majority of municipal, county, and state law enforcement officers in Kansas and oversees the training of the remaining officers at seven authorized and certified academy programs operated by local law enforcement agencies and the Kansas Highway Patrol.
About 300 officers enroll annually in KLETC 14-week basic training programs. KLETC offers continuing education and specialized training to over 10,000 Kansas officers each year. KLETC is located one mile west and one mile south of Yoder, near Hutchinson, and is a division of the University of Kansas Lifelong & Professional Education.
The graduates, who began their training in January 2022, represented multiple municipal, county, and state law enforcement agencies from across Kansas. Graduates are listed below by county and agency:
BUTLER
Robert Garland - Andover Police Department
CHAUTAUQUA
Manuel Arica Zambrano - Sedan Police Department
CHEYENNE
Troy Zweygardt - Cheyenne County Sheriff's Office
COWLEY
Dylan Kettenbach - Arkansas City Police Department
Otey Spires - Arkansas City Police Department
DICKINSON
Colton Barton - Chapman Police Department
DOUGLAS
James Smathers - Lawrence Police Department
JEWELL
Brandon Keeker - Jewell County Sheriff's Office
Isaiah Tippin - Jewell County Sheriff's Office
JOHNSON
James Fallin - Kansas Department of Wildlife and Parks
LYON
Aaron Eckdahl - Emporia Police Department
Martin Orozco - Emporia Police Department
MCPHERSON
Mason Dyck - Moundridge Police Department
Barton Miller - McPherson Police Department
MONTGOMERY
Stephen Conley - Cherryvale Police Department
OSAGE
Falicity Garner - Carbondale Police Department
Phillip Shepard — Osage County Sheriff's Office
PRATT
Noah Fiechtl - Pratt Police Department
RENO
Mason Cooper - Hutchinson Police Department
Chance Gorges - Reno County Sheriff's Office


SEDWICK
Chance Corsair - Park City Police Department
Judah Kidd - Park City Police Department
Elisha Tobin - Derby Police Department
SHAWNEE
Anthony Cooper - MTAA Police and Fire Department
WILSON
Kevin Chandler - Wilson County Sheriff's Office
WYANDOTTE
Derik Ehlert - University of Kansas Med Center Police Dept
Matthew Woodrell - University of Kansas Med Center Police Dept
 
By: Jason Levy