Kansas Law Enforcement Training Center Graduates 291st Basic Training Class
---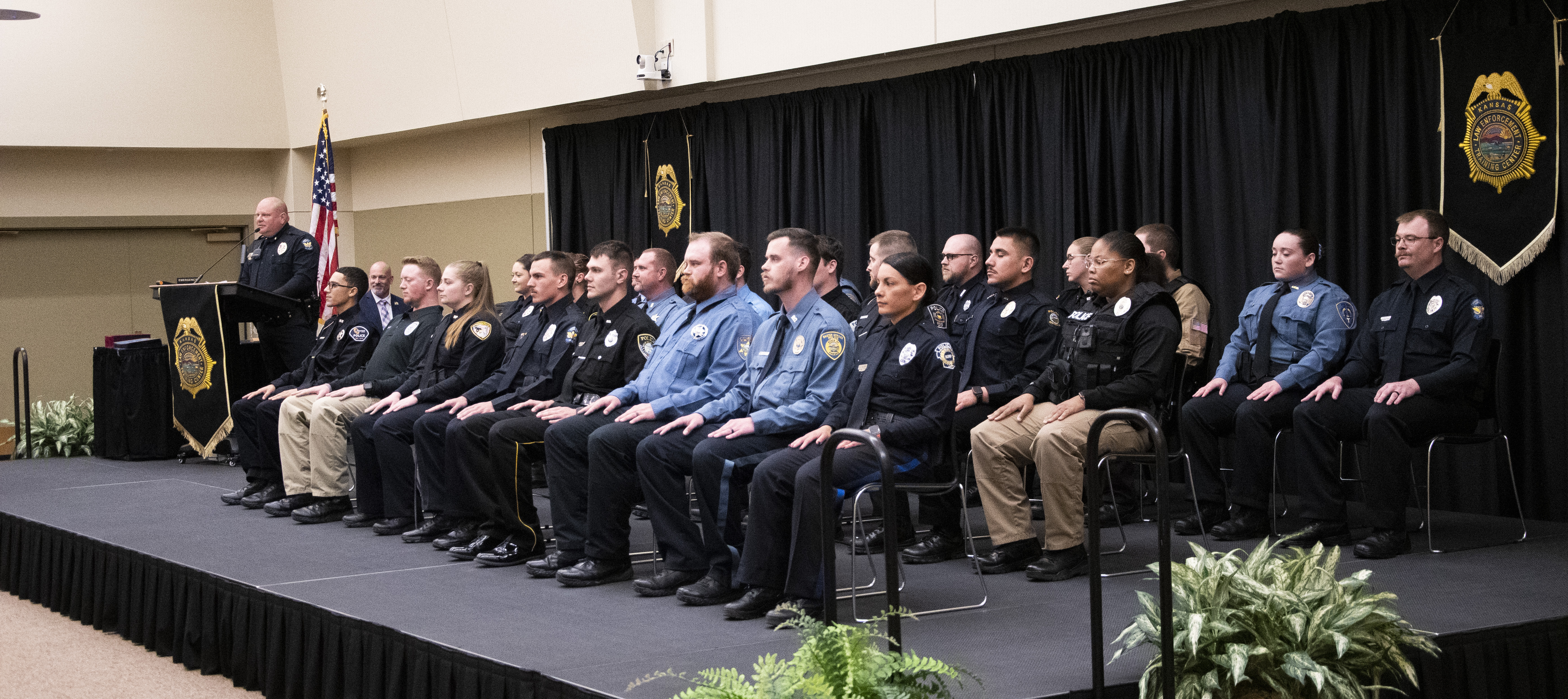 Chief Courtney Prewitt of the Garden City Police Department speaks to KLETC's 291st graduation class
Twenty-four new law enforcement officers graduated from the Kansas Law Enforcement Training Center (KLETC) on April 8th at a ceremony held in the KLETC Integrity Auditorium. 
Deputy Charles Wheaton of the Edwards County Sheriff's Office was the graduating class president. The speaker for the ceremony was Chief Courtney Prewitt of the Garden City Police Department. Mike Satterlee, KLETC Senior Instructor of Police, was the Class Coordinator for the 291st Basic Training Class.
Steven Phillips of the Haven Police Department was recognized during the ceremony for his firearms proficiency as the class' "Top Shot".
Graduates receive certificates of course completion from KLETC and Kansas law enforcement certification from the Kansas Commission on Peace Officers' Standards and Training, the state's law enforcement licensing authority. The training course fulfills the state requirement for law enforcement training. Classroom lectures and hands-on applications help train officers to solve the increasingly complex problems they face in the line of duty.
Established by the Kansas Legislature in 1968, KLETC trains the majority of municipal, county, and state law enforcement officers in Kansas and oversees the training of the remaining officers at seven authorized and certified academy programs operated by local law enforcement agencies and the Kansas Highway Patrol.
About 300 officers enroll annually in KLETC 14-week basic training programs. KLETC offers continuing education and specialized training to over 10,000 Kansas officers each year. KLETC is located one mile west and one mile south of Yoder, near Hutchinson, and is a division of the University of Kansas Lifelong & Professional Education.
The graduates, who began their training in January 2022, represented multiple municipal, county, and state law enforcement agencies from across Kansas. Graduates are listed below by county and agency:
ANDERSON
Hayden Seabolt - Anderson County Sheriff's Office
BROWN
Evva Holtz - Kickapoo Tribal Police Department
CHEROKEE
Evan Duckett - Baxter Springs Police Department
COWLEY
Adam Utt - Arkansas City Police Department
CRAWFORD
Jacob Lovewell - Girard Police Department
DICKINSON
Amanda Wilson - Abilene Police Department
EDWARDS
Charles Wheaton - Edwards County Sheriff's Department
FINNEY
Christopher Dame - Garden City Police Department
McKenzie Haar-Becker - Garden City Police Department
Christopher Wilson - Garden City Police Department
GRANT
Ashton Duck - Grant County Sheriff's Office
HARVEY
Jayden Banks - Newton Police Department
JEFFERSON
Trey Davidson - Valley Falls Police Department
LABETTE
Cordell Bass - Chetopa Police Department
MARSHALL
Austin Tillery - Marshall County Sheriff's Office
PAWNEE
Joshua Huff - Pawnee County Sheriff's Office
RENO
Jesyka Boots - Hutchinson Police Department
Steven Phillips - Haven Police Department
SCOTT
Bailey White - Scott City Police Department
SEDGWICK
Cheryl Glider - Derby Police Department
SEWARD
Kannesha Nept - Liberal Police Department
SHERMAN
Duncan Kroskey - Goodland Police Department
WICHITA
William White - Wichita County Sheriff's Office
WYANDOTTE
Domingo Moya - Edwardsville Police Department
 
By: Jason Levy