Sheriffs Graduate From New Sheriffs' School
---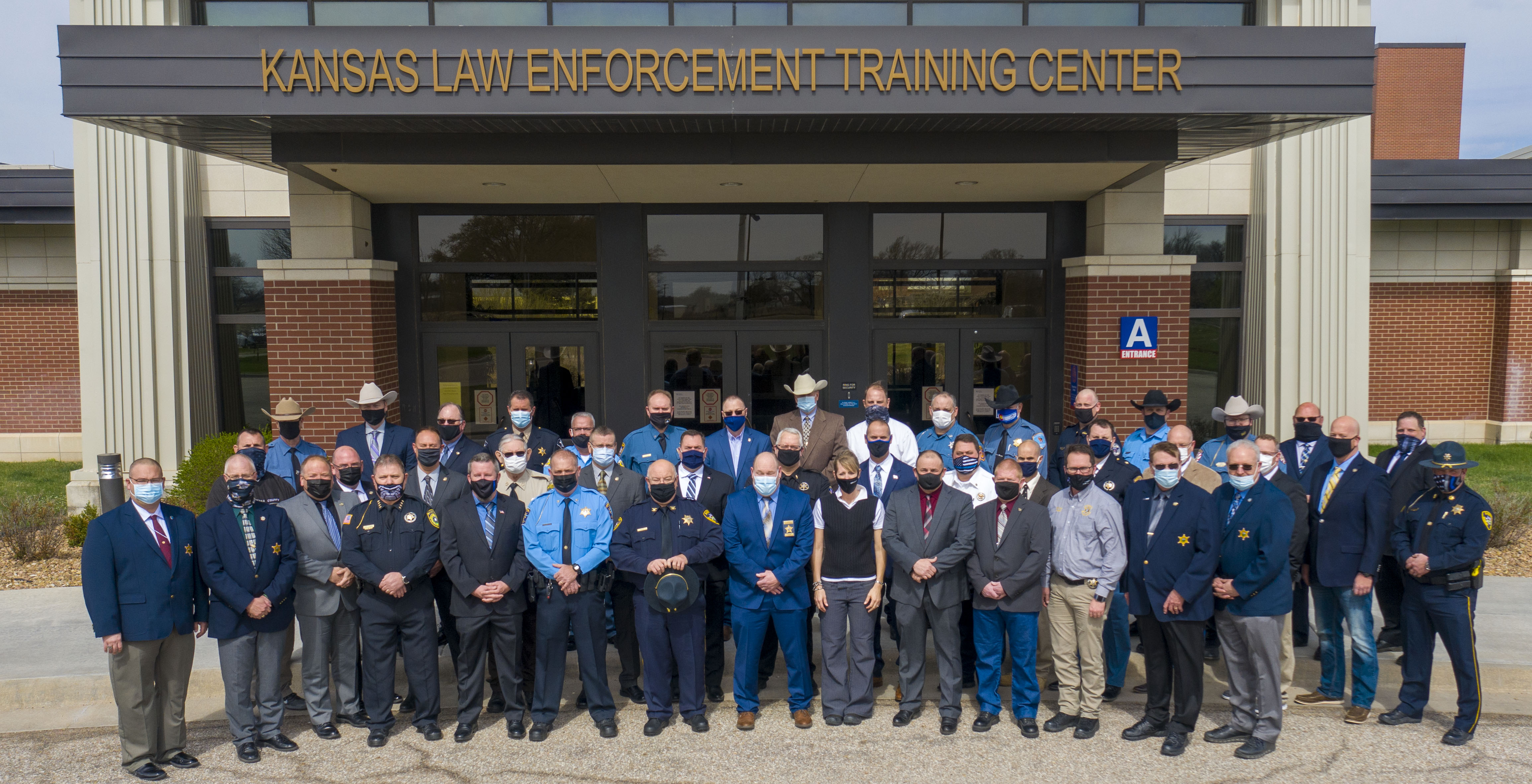 By: Jason Levy
Thirty-seven sheriffs and three undersheriffs graduated today from the KLETC New Sheriffs' School, an intense 2-week orientation mandatory for all newly elected Kansas sheriffs. The ceremony was held in front of select Kansas sheriffs and KLETC staff in the KLETC Integrity Auditorium.
Darin Beck, Executive Director of KLETC, commended the school and its value to the new sheriffs. "The New Sheriffs' School offers new Kansas sheriffs an invaluable opportunity to improve their effectiveness as dedicated public safety officials," said Director Beck. "This is something that benefits all citizens of Kansas."
Shane Jager spent 28 years of his career working for the Pottawatomie County Sheriff's Office before being elected as Sheriff. He said that even though he's spent his career at the sheriff's office, the training provided by the New Sheriffs' School was invaluable for him as Sheriff. 
"This is informing us of our responsibilities and duties as sheriff, as outlined by statute," said Jager. "It also gives us the opportunity to network with other new sheriffs and to learn different ways to address the different situations that will arise and come up with solutions."
Some of the topics covered during this final week of the New Sheriffs' School were the budget process and statutory requirements for sheriffs, crisis communications, and wellness and peer support. 
"I can't speak highly enough of the opportunity these sheriffs are given by KLETC hosting this school and bringing in the presenters," said Sheriff Bill Carr, Sheriff of Ford County and mentor to the new sheriffs. "The knowledge they gain during these sessions is a necessity."
The sheriffs also had the opportunity to network on Tuesday night with each other and representatives of the Kansas law enforcement community, including Kansas Attorney General Derek Schmidt and Highway Patrol Superintendent Herman Jones. 
The New Sheriffs' School was designed in partnership with the Kansas Sheriffs' Association (KSA). Director Beck emphasized the importance of working with the KSA.
"I appreciate the partnership with the KSA and its Executive Director Sandy Horton" said Director Beck. "The involvement of the KSA elevates this school and produces a better prepared sheriff."