Kansas Law Enforcement Training Center Graduates 281st Basic Training Class
---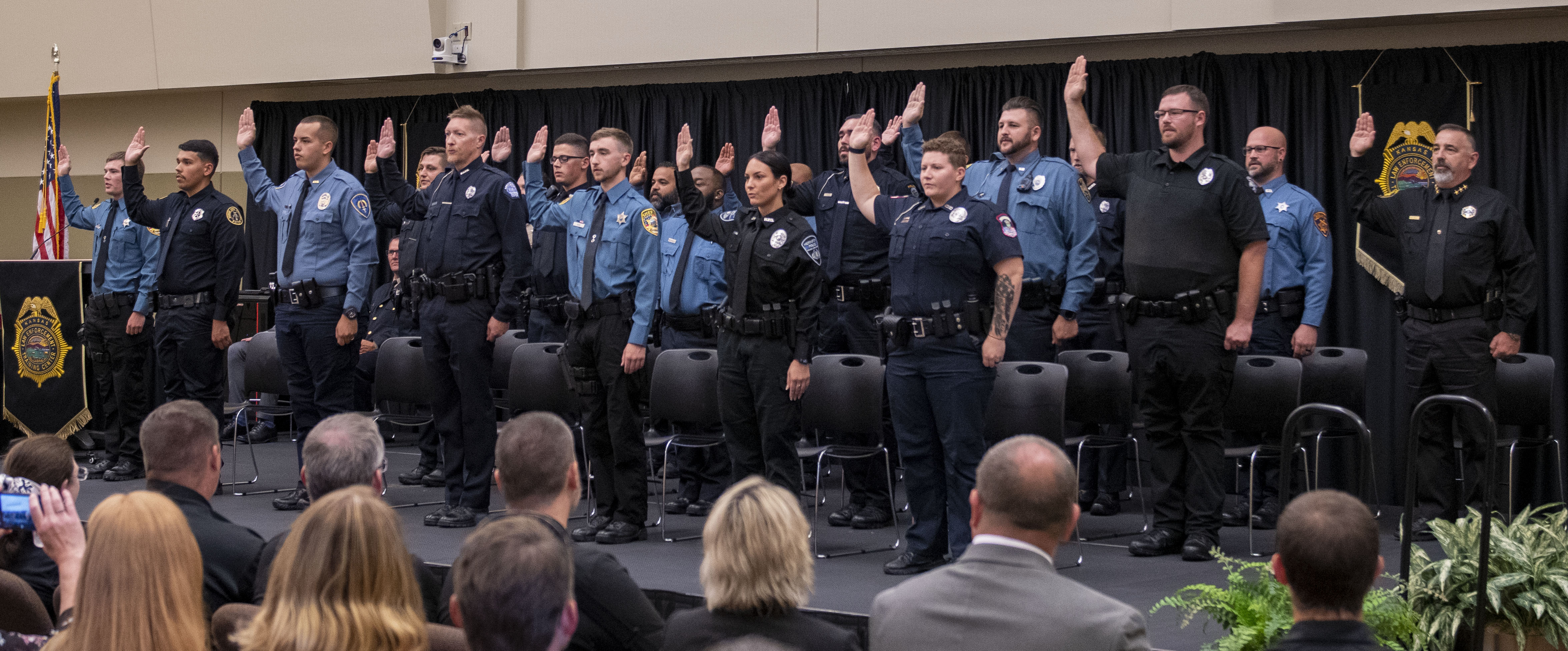 The 281st Basic Training Class recites the Law Enforcement Oath of Office in front of the attending audience.
Kansas Law Enforcement Training Center Graduates 281st Basic Training Class
Twenty new law enforcement officers graduated from the Kansas Law Enforcement Training Center (KLETC) on July 30th at a ceremony held in KLETC's Integrity Auditorium.
The graduation of the 281st Basic Training Class was the first ceremony open to the public since March 6th, 2020. "This was a special moment for our graduates," said KLETC Executive Director Darin Beck. "I know it meant a lot to be able to graduate in front of their family and friends."
Deputy Hayden Goudy of the Cloud County Sheriff's Office was the graduating class president. The speaker for the ceremony was Shane Jager, Sheriff for Pottawatomie County. Michael Turenne, KLETC Senior Instructor of Police, was the Class Coordinator for the 281st Basic Training Class. Turenne recognized Christopher Santos, also from the Cloud County Sheriff's Office, for his firearms proficiency as the class' "Top Shot".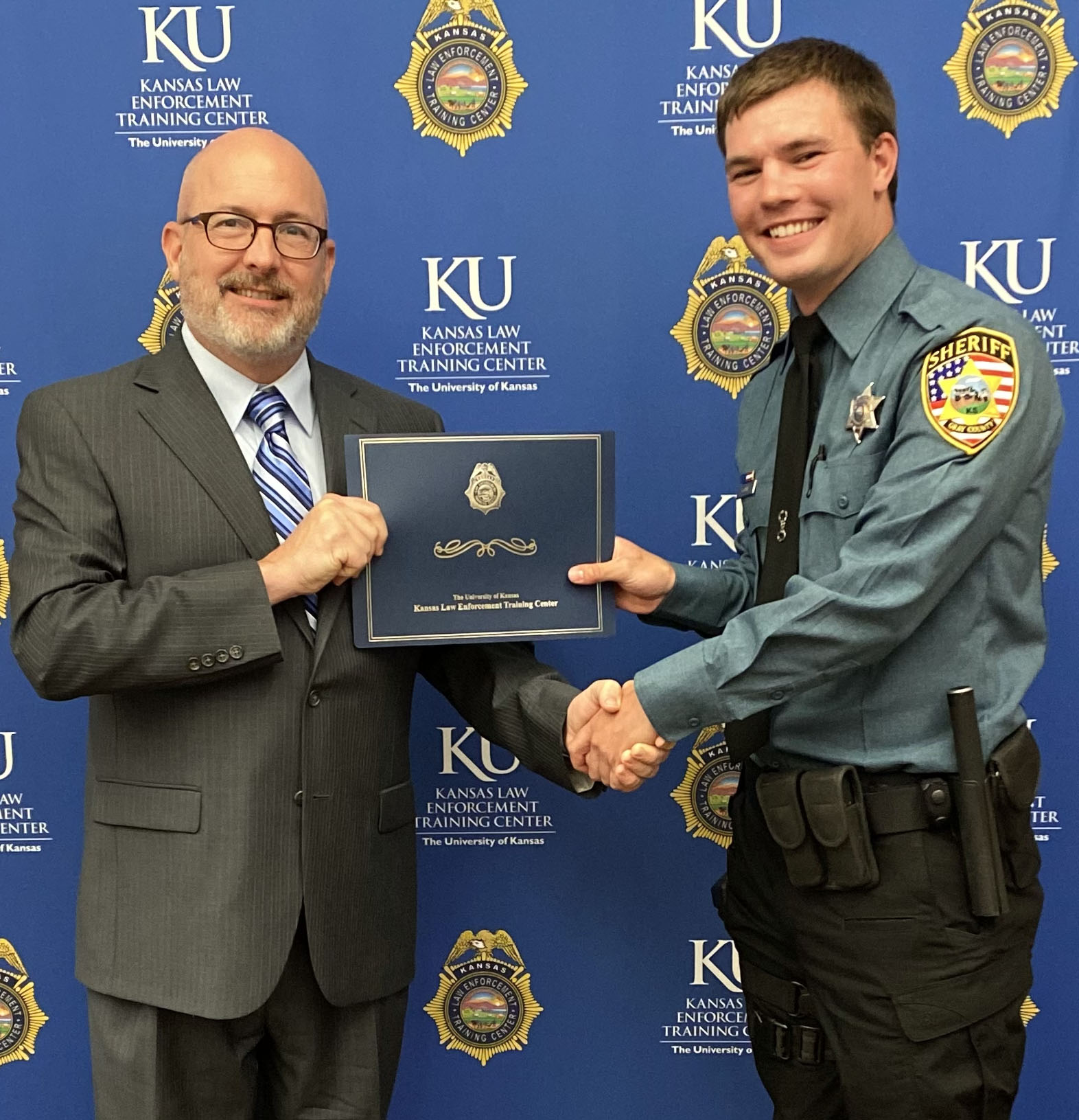 Graduates receive certificates of course completion from KLETC and Kansas law enforcement certification from the Kansas Commission on Peace Officers' Standards and Training, the state's law enforcement licensing authority. The training course fulfills the state requirement for law enforcement training. Classroom lectures and hands-on applications help train officers to solve the increasingly complex problems they face in the line of duty.
Established by the Kansas Legislature in 1968, KLETC trains the majority of municipal, county, and state law enforcement officers in Kansas and oversees the training of the remaining officers at seven authorized and certified academy programs operated by local law enforcement agencies and the Kansas Highway Patrol.
About 300 officers enroll annually in KLETC 14-week basic training programs. KLETC offers continuing education and specialized training to over 10,000 Kansas officers each year. KLETC is located one mile west and one mile south of Yoder, near Hutchinson, and is a division of the University of Kansas Lifelong & Professional Education.
The graduates, who began their training in April 2021, represented 16 municipal, county and state law enforcement agencies from across Kansas. Graduates are listed below by county and agency:
Barber
Peter Wright - Barber County Sheriff's Office
Butler
Nathan Spears - El Dorado Police Department
Cloud
Christopher Santos - Cloud County Sheriff's Office
Timothy Wogomon - Cloud County Sheriff's Office
Cowley
Rick Bennett - Arkansas Police Department
Jeffery Wilson - Arkansas Police Department
Kamen Hinzman - Winfield Police Department
Crawford
Robert Morales Gonzalez - Pittsburg State University Police Department
Decatur
Casey House - Oberlin Police Department
Dickinson
Caleb Barnhart - Abilene Police Department
Breanna Canby - Herrington Police Department
Ford
Rick Aguirre - Dodge City Police Department
Gray
Derrek Berg - Gray County Sheriff's Office
Hayden Goudy - Gray County Sheriff's Office
Montgomery
Jesse Cross - Caney Police Department
Pottawatomie
Tanya King - Pottawatomie County Sheriff's Office
Reno
Kyle Danahy - Hutchinson Police Department
Robert Deleon - Hutchinson Police Department
Wyandotte
Timothy Gist - Wyandotte County Sheriff's Office
Timothy Gulley - Edwardsville Police Department