Kansas Law Enforcement Training Center Graduates 273rd Basic Training Class
---

By: Jason Levy
Twenty-eight new law enforcement officers graduated from the Kansas Law Enforcement Training Center (KLETC) on February 5th at a ceremony held in KLETC's Integrity Auditorium.
Shannon Kratt of the Augusta Department of Public Safety was the graduating class president. The speaker for the ceremony was the Sheriff for Wyandotte County, Donald Ash. Steve McCorkill, KLETC Senior Instructor of Police, was the Class Coordinator for the 273rd Basic Training Class. Jarin Watkins from the Coffeyville Police Department was recognized for his firearms proficiency as the class' "Top Shot".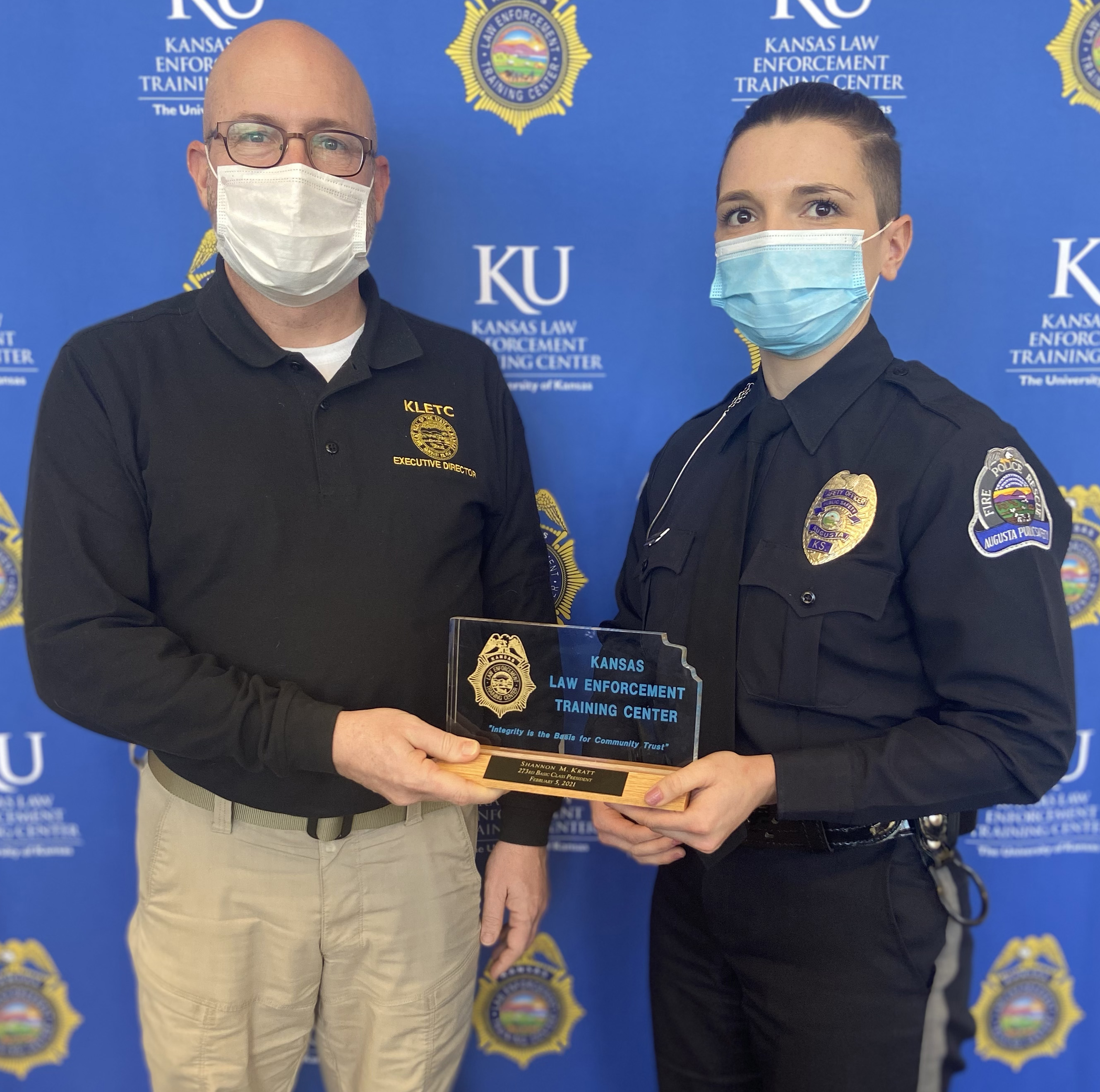 Graduates receive certificates of course completion from KLETC and Kansas law enforcement certification from the Kansas Commission on Peace Officers' Standards and Training, the state's law enforcement licensing authority. The training course fulfills the state requirement for law enforcement training. Classroom lectures and hands-on applications help train officers to solve the increasingly complex problems they face in the line of duty.
Established by the Kansas Legislature in 1968, KLETC trains the majority of municipal, county, and state law enforcement officers in Kansas and oversees the training of the remaining officers at seven authorized and certified academy programs operated by local law enforcement agencies and the Kansas Highway Patrol.
About 300 officers enroll annually in KLETC 14-week basic training programs. KLETC offers continuing education and specialized training to over 10,000 Kansas officers each year. KLETC is located one mile west and one mile south of Yoder, near Hutchinson, and is a division of the University of Kansas Lifelong & Professional Education.
The graduates, who began their training in September 2020, represented 17 municipal, county, and state law enforcement agencies from across Kansas. Graduates are listed below by county and agency:
Butler
Shannon Kratt - Augusta Department of Public Safety
Amanda Cole - Augusta Department of Public Safety
Michael Wigart - Augusta Department of Public Safety
Cherokee
Arlo Leuke - Columbus Police Department
Cowley
Cory Johnson - Cowley County Sheriff's Office
Esther Law - Arkansas City Police Department
Spencer Warren - Arkansas City Police Department
William Wollard - Winfield Police Department
Brennon Marcotte - Winfield Police Department
Ellis
Braden Parke - Ellis County Sheriff's Office
Ford
Adam Granatowski - Dodge City Police Department
Harper
William Bishop - Harper County Sheriff's Office
Harvey
Brad Crochet - Newton Police Department
Kiowa
Michael Tedder - Kiowa County Sheriff's Office
Marshall
Austin Watts - Marysville Police Department
Bryant Jones - Marshall County Sheriff's Office
Miami
Robert McAnany - Miami County Sheriff's Office
Dallas Onions - Miami County Sheriff's Office
Tristan Geiger Osawatomie Department of Public Safety
Montgomery
Jarin Watkins - Coffeyville Police Department
Chance March - Coffeyville Police Department
Saline
Kalen Ingalsbe - Saline County Sheriff's Office
Alycia Buchanan - Saline County Sheriff's Office
Wyandotte
Luis Garcia - Wyandotte County Sheriff's Office
Amber Freeman - Wyandotte County Sheriff's Office
Jared McGrew - Wyandotte County Sheriff's Office
Michael Morse - Wyandotte County Sheriff's Office
Brian Warczkoski - Wyandotte County Sheriff's Office