Troy Livingston
---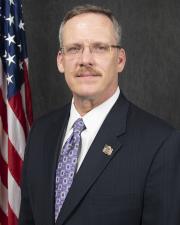 Biography
—
Troy joined KLETC in 2019. He served 24 years with the Wichita Police Department, retiring as a Deputy Chief. He also served as an officer with the Liberal, KS Police Department.  
Troy holds a Master's in Public Administration and a Master of Arts in Criminal Justice, both from Wichita State University.  He also has a Bachelor of Science degree in Criminal Justice from the University of Houston-Downtown, and an associate's degree in Criminal Justice from Seward County Community College.  Troy is a graduate of the FBI National Academy #274.
Troy was promoted to Class Coordinator in June 2020.